MAKE YOUR FIRST SKYDIVE WITH JUMP GEORGIA
It needs immense courage to jump from the scaring height of 14,000 ft from the aircraft where you're falling free for 60 seconds and at a speed of 120 mph. If you're scared of height yet want to skydive, contact us. We are a team of skydiving professionals who give complete training before you do your first tandem skydive. Tandem skydive take less than an hour of training and once you're off the ground, we don't set you free alone, you are attached to one of our instructors, as safety is our first priority.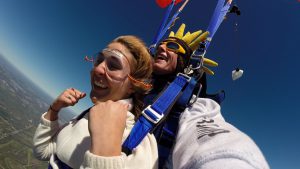 Besides experiencing the safest jump with us, you'll experience jump from the biggest and the fastest aircrafts that elevate you safely to the frightening heights of 11000 ft, 14000 ft and 18000 ft. In addition, to make your jump more fun and exciting, we offer you the closest tandem skydive from Savannah or Augusta, so you enjoy a beautiful view while making your first jump.
Tandem skydive is always exciting and attracting, however, there are a certain norms that should be fulfilled before you make your first jump. One, you must weight under 230 lbs and must be at least 18 years old [adult].
Jump Georgia and all the instructors associated with the company own a certification form United States Parachute Association, so you can be double sure of your safety. Besides one time jumping sessions, we also offer accelerated free fall program, or AFF, that allow you to experience solo skydive. It is a seven jump course wherein the first two jumps are the tandem jumps and thereafter we teach all the fundamental grounds during 5-6 hours of teaching. The remaining 5 jumps are solo while the instructor remains by your side while jumping. With the help of a radio attached besides your helmet instructor guides you about how to pull the harness and how to maintain the balance between both the sides of the parachute and other important things to remember while jumping alone.
Another important thing that can make your jump exciting is to bring your family members and friends along. They cheer you up and also take your videos and photos while you make your first jump. Secondly, your friends and family members help to keep your expensive belongings save and secured while you enjoy your jump without any tensions or worries.
We also have special video and photo packages so you make your once in a lifetime event a memory for life by recording it in the form of photos and videos. With a minimal charge of $75.00 you receive a professionally produced video of your skydive. The video includes an on ground pre-flight interview, footage from inside of the aircraft while you're on your way up to the altitudes, entire free-fall, and segments from the parachute ride back down to earth. We also include still images of yours while you do your first tandem skydive. For more information you can visit www.jumpgeorgia.com or phone us at 1-888-313 (5867).